Encounter
Wednesday, December 6th @ 6:30p at Soma
The first Wednesday of every month we come together for worship, prayer and personal ministry. Come be encouraged and blessed.
Tell me more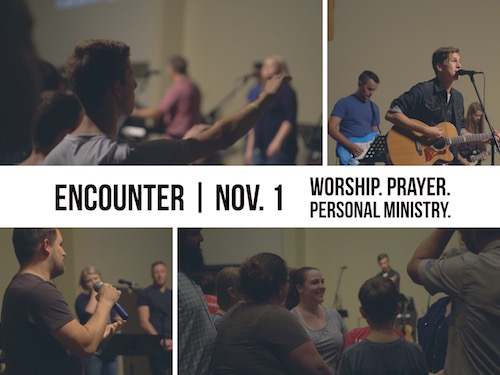 KAIROS
In the New Testament, the word kairos means "the appointed time in the purpose of God." It's the time when God acts. KAIROS is a time for you to experience God—deeper and higher. It's a time for inner healing and breaking strongholds as well as physical, emotional, mental, and spiritual healing.
KAIROS is designed to create a safe atmosphere for you, within a group setting, to experience God's healing power by having an intimate encounter with the Holy Spirit through inner healing exercises and worship. This event is more about God's healing presence than about teaching or lectures.
This two-day event is held at the Gateway Church Southlake Campus and requires the completion of the Four Freedom Basics classes prior to attending. Please register for this event before attending.
KAIROS is for adults 18 years or older, and children's ministry is not available for this event.

Israel Tour
April 21-30, 2018
Next April, we will be leading a tour through Israel. Join us as we walk in the footsteps of Jesus.
If you would like to learn more about attending this trip, email us at info@somatyler.org.
Peru Sumer 2018 Trip
We will be taking a team to Peru next summer for an outreach trip. We will be working with local missionaries in Peru to help with service projects, sorting donations, preparing food for those in need, and more.
If you would like to donate to this trip click here and designate your gift as "missions".
If you would like to learn more about attending this trip, email Ken Reid at ken@somatyler.org.